Avocados Really Are Good For You
In the US alone, there are over 400 different types of avocados with Hass being the most popular.
Technically a fruit, the naturally buttery and rich flavor comes from their good fat content. High in fiber and containing more potassium than banana's, avocados have more protein than any other fruit. California accounts for 90% of the avocados that are grown in America.
Beyond Guacamole and BLTA's
Avocados are delicious and good for you, but they are not just for BLTA's and guacamole. Use them on sandwiches as a replacement for mayonnaise, or spread on crackers.
Try Chilled Avocado Soup with Yogurt and Melon for a delicious alternative. This easy to prepare recipe is the perfect cool down for hot summer days.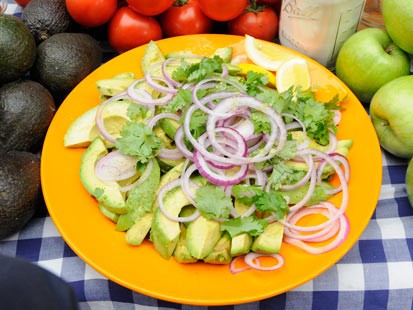 Avocado and Red Onion Salad is another simple recipe that you can whip up in minutes. Just slice your onions and avocado's, add some olive oil, red wine vinegar and a dash of salt and pepper.
Roasted Beet and Avocado Salad is another unique way to prepare this delicious and healthy fruit. Once beets are roasted, they take on an earthy almost sweet flavor that pairs wonderfully with avocados.
Most folks pair fresh avocados with lime and cilantro, but when blended with honeydew and lime zest, they take on an entirely different flavor. Prepare an avocado and honey dew salsa with olive oil and red wine vinegar, and pour over lightly grilled scallops.
Of course, there are hundreds of ways to prepare avocados, but they are also good for what ails you.
If you eat avocados, you could prevent oral cancer cells from growing. Research shows that there are compounds in the avocados that could seek out and destroy cancer cells without harming the healthy cells.
Avocados are high in oleic acid, and like olive oil have been proven as a defense against breast cancer.
Because avocados contain high levels of beta-

sitosterol

, they can help lower cholesterol. In fact, in a recent study, volunteers lowered their cholesterol by up to 17% after one week of eating avocados.
The amount of folate in avocados can help prevent against stroke and heart disease. Avocados also contain high levels of glutathione, monounsaturated fats, and vitamin E, which is good for a healthy heart.
Eating avocados is great for your body, but this wonderful fruit also makes an amazing skin mask. Just mash an avocado, add some honey, yogurt, and cucumber slices to place over your eyes, leave on until dry, rinse, and your skin will have a youthful glow.
If your tresses are dry and brittle, try preparing an avocado hair mask. All you need is honey, olive oil, and of course avocado. Leave on your hair for 20 minutes and shampoo as usual.