Zucchini is a very easy vegetable to grow. All you need is some good soil, sunlight, seeds and water, but what happens when your zucchini crop yields more veggies than you had anticipated? Luckily, there are plenty of breads, vegetable cakes, and savory dishes that you can prepare with your abundant zucchini.
Zucchini can be eaten raw as well as cooked. Nutritionally Zucchini is low in Saturated Fat and Sodium, and very low in Cholesterol. It is also a good source of Protein, Vitamin A, Thiamin, Niacin, Phosphorus and Copper, and a very good source of Dietary Fiber, Vitamin C, Vitamin K, Riboflavin, Vitamin B6, Folate, Magnesium, Potassium and Manganese.
Versatility
Zucchini is one of the most versatile vegetables with dozens of recipes that show just how tasty it can be.
Fresh zucchini is wonderful in salads. Try shaving fresh zucchini and tossing it with pine nuts, olive oil, basil, fresh lemon juice, and shaved parmesan cheese. This simple salad is sure to please even the fussiest eaters. Tomato and zucchini salad is scrumptious. Make a vinaigrette using balsamic vinegar, Dijon mustard, garlic, tarragon, fresh parsley, salt, pepper, and a dash of hot sauce, and you have another hit on your hands.

Meatless Mondays are perfect for Zucchini recipes. Try a zucchini and summer squash with herb tortellini recipe, or go for a side dish of fried zucchini. Make Stuffed Zucchini Boats or one of my favorites grilled zucchini
.
Marinated Grilled Zucchini
Yield: 4 servings
Ingredients
1 tablespoons pomegranate balsamic vinegar
1 tablespoons fresh lemon juice
1 tablespoon minced garlic
1 teaspoons chopped fresh thyme leaves
1 teaspoon fresh oregano
Salt and freshly ground black pepper
1/4 cup extra-virgin olive oil
1 pound zucchini (about 3 large), trimmed and sliced lengthwise about 1/4-inch thick
Preparation:
Whisk the vinegar, lemon juice, garlic, oregano and thyme in a large bowl to blend. Season with salt and pepper. Gradually whisk in the oil. Spoon 3 tablespoons of the marinade into a small bowl. Cover and set aside. Add the zucchini to the remaining marinade in the large bowl and toss to coat. Transfer the mixture to a 13 by 9 by 2-inch glass baking dish. Cover and marinate at room temperature at least 3 hours or cover and refrigerate up to 1 day.
Prepare the barbecue for medium-high heat. Grill the vegetables until they are crisp-tender and brown, turning occasionally, about 8 minutes. Transfer the vegetables to a platter. Drizzle with the reserved marinade and serve hot or at room temperature.
Of course, zucchini bread is a classic. Use it on its own, or add dried or fresh cranberries for something deliciously different. Switch it up and make muffins with zucchini and chocolate chips. Zucchini cookies with lemon frosting may not sound appetizing, but give them a chance, your kids will love you for it.
You can also pickle and can your zucchini, cut it into chunks and use it for chutney, relish, or salsa.
Zucchini Dill Pickles
Zucchini Salsa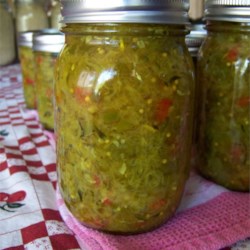 Zucchini Relish
Zucchini Butter

Handling
Zucchini is a delicate vegetable and should be handled with loving care as it can bruise easily. Usually picked when it is 6" long, it is best to keep your zucchini at room temperature. Never store in a refrigerator. Just like cucumbers, your fridge is not the best environment for zucchini. If you do have to store it in your refrigerator, keep it in the crisper drawer in a sealed plastic bag for no longer than five days. Do not wash until ready to use.
If you run out of idea's you can always give your zucchini to the neighbors or freeze it. Slice, and boil for about three minutes. After boiling it, submerge into a bowl of icy cold water for an additional five minutes. Place in freezer bags and store for up to fourteen months. Just remember to cook after thawing.
If you plan on growing zucchini next year, don't forget to allow one vegetable to get to full size so that you can harvest the seeds.
What's your favorite Zucchini Recipe?
photo credit:
Another Pint Please...
via
photopin
cc